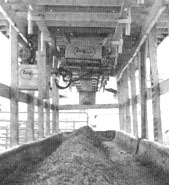 Even distribution of all types of feed is a huge advantage of this feeder. Hanging near the bunk roof is a big benefit in keeping the feeder out of the weather. It also eliminates the problem of legs rusting off due to contact with the silage. Notice the lack of obstructions in the lower bunk area.

Installation is quick and easy. Support brackets can hang from either cross supports in a bunk, second story floor joists or the ceiling in a barn. Rails are then attached to the support brackets with a clamp by just tightening a set screw. The drive unit and tray sections come pre-assembled from the factory, thus reducing valuable time! Because who has time to waste these days?

A drawback to center fill feeders is the portion of belt or chain that does not drop feed. We have solved the problem with the dead spot feed plow. No more moldy feed sitting on the belt waiting to fall into the bunk and making your animals sick.

The 16" wide belt has the capacity to haul feed away from almost any set-up, from total ration mixers to combined unloaders running at the same time. Saves you time and money by reducing feeding time.

Quiet, easy-rolling UHMW (plastic) wheels carry the feeder tray smoothly along the 2" x 2" angle ion rails. 2050 roller chain is used to pull the tray back and forth. A 3/4" rod protects the chain from being accidentally knocked off the support hooks by curious cattle.